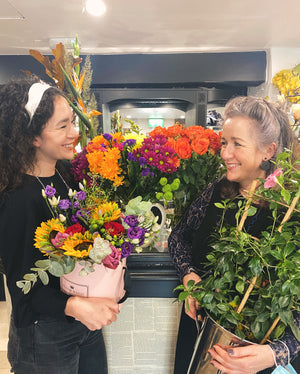 We'll be Honest
Fashion can be a harmful industry and it can be hard to distinguish between honest commitments to do better and marketing greenwashing.
Even with the best intentions, a fashion & design business achieving full sustainability is undoubtedly a challenge but a challenge we must all rise to.
As a small, Irish, family business, we have taken several steps to embed authenticity, community and environment as the foundation for what we do.
We continue to educate ourselves on what we can do better and look forward to sharing this journey with you.
not perfect, but making progress
our commitment
to make good choices, continually seek to learn more and do better with the goal of achieving true sustainability and ethical supply chains, and to be honest about our progress.
Due to over-consumption of poor quality and unethical fashion, in 2019 208 million pounds of single-wear garments ended up in landfill. We want to break that cycle.
As part of the slow fashion movement, we consciously create high quality, stylish and versatile pieces that are designed to stand the test of time.
know who made your clothes
Mise Tusa is designed and made by us and our small talented team in our West of Ireland studio on the Wild Atlantic Way
Our core materials
Wool woven in Ireland
Luxury industry surplus
Oeko-tex certified Bamboo
Made in our studio
By choosing to make our pieces ourselves rather than outsource production, we have full control over the process and quantities produced. This allows us to be reactive and significantly minimise waste compared to if we were locked into minimum production quantity agreements. It also means less transportation of goods which helps the environment.
Other steps we have taken
We are very passionate about minimising waste so we design and cut in a process that minimises off cut fabric. Where there is off-cut fabric, this is turned into hair scrunchies, hair bands or to create a meditation cushion. All sales of our meditation cushions will be going to our carefully selected charities.
Our garment labels are made from OEKO-TEX® and GOTS certified organic cotton, and are ethically produced in Europe.
Our natural kraft bags are from an Irish based company and are biodegradable, compostable and recyclable (just remove the rope handle).
Our ecomm boxes and mailers are made from 100% recycled paper. These boxes are ethically made in a certified European factory.
Our Tote bags are made from premium 100% organic cotton which is OCS100 and GOTS certified. Our tote bags are printed locally in Kilcolgan by Eoin at Top Print.
The card that comes with online orders is made from 100% post-consumer recycled paper. Our business cards, swing tags and postcards are made from from finely woven Italian paper which is FSC-certified and certified by Rainforest Alliance We hope to find cards made locally of recycled material for our next order. Our stickers are paper not plastic.
Our tissue paper is sourced from UK and is made from 70% recycled paper, and is 100% recycalable.
We used brown paper packing tape instead of plastic sellotape, sourced from the UK.
We rarely use garment bags, but the ones we use are 100% biodegradable poly bags sourced in Ireland. These bags decompose within 2-3 years.
For online orders with utilise offset which works to offset the carbon dioxide (CO2) emissions from the shipments by donating a percentage of the sale to restoring forests. We are currently educating ourselves more on mitigation measures, as prevention is better than trying to make up for it.